Why you should choose sparkle sequins for advertising?
You can talk as much as you like about what should be good for selling advertisement. But for your offer to be noticed by the buyer, you need something unusual, such as sparkle sequins. For advertising, these pieces of plastic assembled in a panel, are perfect.
Because they create the effect of movement without the participation of electricity, they are clearly visible and durable. From panels with sequins, you can create banners on the facade, signs, use these sparkle sequins as elements of interior advertising. Simplicity and reliability, the effect of reflection of the light flux and movement are what is needed to effectively attract attention.
Live advertising: sequins and airflow
Today, outdoor advertising often uses lightboxes, LCD monitors, LEDs. All of them do their job perfectly attracting attention but are not as good as sequins. For advertising, not only the creative idea and the good location of the storage medium are important, but also resistance to atmospheric stress, durability and low maintenance cost.
Compared to other advertising media, sequins have several advantages:
They are light in weight and simple to install.
They are not afraid of strong gusts of wind, humidity, low temperatures and bright sun.
They do not need constant maintenance and repair.
They work for you for a long time (the manufacturer gives a two-year warranty, although, in fact, these designs can work for you much longer).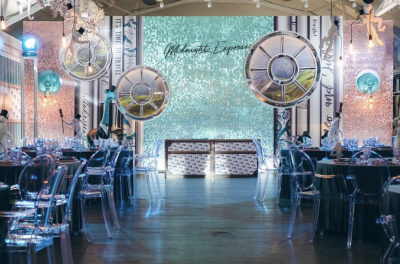 You can buy and make to order these sparkle sequins panels on our website. Panel production does not exceed seven days in time. Worldwide shipping. That is, you can order signs or banners using dynamic reflective mirror sequins panels, being in any city.
The price of panels with sequins depends on their size, the number of dynamic elements, their shape. A special coating of sequins ensures their durability, and the design features of the panels - the reliability and effectiveness of your advertising.
Sparkle sequins for advertising - a great opportunity to attract attention to your proposal. For magic, they need nothing but a light breeze. Work with each client in the company "Technology of Reflection" is individual.