What Kind of Shimmer Wall is Needed for a Wedding or an Exhibition
A special design called a press wall helps to raise the status of any official event. Usually it is placed in the background. At the wedding for the organization of photo shoots and video shooting also used a similar design. It can be made from sequins and then it is called a shimmer wall or a sequins wall. But its design may be completely different.
The wedding photo zone helps to create a special romantic atmosphere necessary for good wedding photos and videos. As a rule, the photo zone and press-wall are static constructions, but design technologies do not stand still. Today, statics are replaced by dynamic panels with sequins.
You can order a dynamic design and an interactive shimmer wall. Guests at the wedding come to share the joy with the bride and groom. They like to take part in a photo shoot for memory. If the photo zone is not just a color screen, but something special like a wall with sequins, each guest will enjoy the final photos.
Wedding sequins wall
Sequins - pieces of plastic with a special coating, suspended on special holders. They begin to sway from the light blow of the wind, and even from drafts or simply vibrations. Also sequins can have a mirror coating, creating the effect of luminous flux, sparks, light splashes, sunlight. Such a shimmer wall will not leave anyone indifferent.
When you choose design elements for public events, you should pay attention to the dynamic design of the sequins:
They are attractive;
They do not require an electrical connection;
They are ideal for creating the effect of movement and reflection;
They offer the designer an unlimited field for creativity;
They are not afraid of bright light, cold, moisture, ultraviolet;
They can be easily installed and dismantled by you, not only indoors, but also outside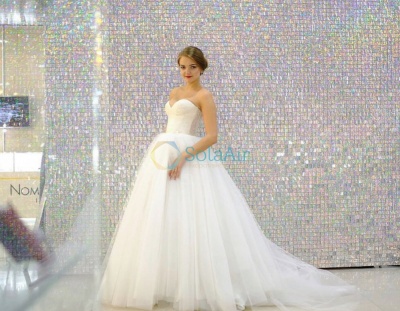 The main thing is not to confuse styles: what is good for a photo zone is not suitable for events where a press wall is needed.
At the wedding for a romantic photo shoot you choose an image in a particular style. The wedding shimmer wall is a combination of movement and lighting. Sequin panels are still good because they can be used for outdoor wedding registration.
For the press wall, it will be enough to make an individual element interactive (brand, company or event name) or select a part with your brand or slogan. If you have a formal event, it is not necessary to make your press wall completely from sequins.
But when you invite a lot of people to the wedding, it is better to carefully consider the place where the banquet will be or where the solemn registration will take place. For such an event, the composition of the sequins can be larger and brighter. If you want the wedding to be remembered by your guests for a long time, order the shimmer wall from sequins.