SolaAir Living Advertising: Attracts by Reflection!
Large amount of advertising around us is just uncountable. However, quantity not always is transferred to quality. Sometimes people fail to take notice of advertising – it is regarded as an annoying fly. In such case the issue is to find out some original way for attracting people's attention. For this purpose, the living advertising based on the SolaAir technology may become an ideal solution.
What kind of advertising is this? It represents a unique system meant for development of dynamic air active structures. Briefly speaking this technology creates scintillating, shining signboards with movable reflective elements.
Such innovative advertising objects are constantly shaking, shimmering, drawing eyes with flashes of light. At the same time the system is autonomous, it does not require electric power supply or any other additional resources. Such advertising material is:
durable,
flexible,
heat- and cold-resistant,
resistant to strong wind blowing,
sun-proof.
No wonder that in sunshiny Krasnodar you can see numerous examples of panels, billboards, signs and extenders made using the SolaAir technology.
This kind of advertising is suitable both for outdoor and inside decoration of buildings, including without limitation facades, interior designs, décor of reception desks in hotels or at any conferences for attraction of the guests' attention.
It is also possible to order any "portable advertising", such as informative signs or stands, which can be transferred from place to place. They are very helpful during exhibitions and presentations. Such technology proved itself to be advantageous for decoration of festive shopwindows, interior design of cafes, night clubs, concert stages.
In the opinion of specialists, the number of visual contacts, attracted by the SolaAir living advertising, is six times more than when using any ordinary printed carrier. Attention of potential clients is focused particularly on the movable reflective elements.
You may be mistaken to consider that such advertising is colorless. The panels can be made coloured (over 15 various tints), not within a single colour range, but in polychromatic version and even with special effects. The up-to-date technology makes possible to apply coating on the reflective elements and print any image thereon: from pictures of famous painters to your photo.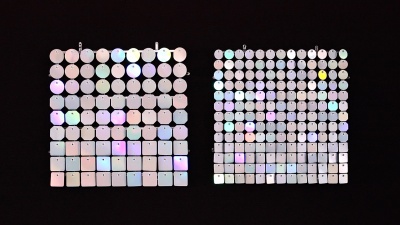 One more advantage of living advertising is that the panels can be easily installed on any surface, as each panel has special mounting holes for self-tapping screws. In addition, the panels can be fixed with the help of glue, clamps or double-sided adhesive tape. Having coupling elements, separate panels are reliably attached to each other, thus it is possible to construct large advertising structures.
As for the cost, the structures manufactured according to the SolaAir technology have lower price than that of analogues with similar appearance, but having absolutely different quality. The reflective elements used for production of such advertising objects are manufactured by the company at its own equipment, therefore coating is applied on them in several steps, its colour and scintillating characteristics remain unchanged during rather long service period. For this very reason such advertising objects are very effective and used for decoration not only of Krasnodar, but also of other cities in our country, drawing attention by amazing light effects on "sequins", "paillettes" and "flakes".
If you are interested in SolaAir advertising technology, you are welcome to contact right now the development and manufacturing company "Reflective Technology" and order original advertising structures of any shape and dimensions.