Sequins Display Panels
First of all, any worthy exhibition is a high-quality stand of the company. Exhibit panels from sequins help to stand out from among the participants and express themselves. SolaAir technology opens up new opportunities for creating bright, unusual, memorable brand walls and press walls.
Usually, a brand wall is just a metal frame 3 meters high with a plastic banner of the represented company. Its essential elements are the name of the company or event, its logo and slogan, and, of course, the photo. The length of this brand wall depends on the size of the exhibition stand. Typically used several such exhibition stands.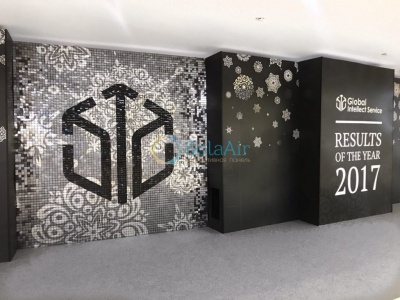 The press wall is also a metal construction with a panel of fabric or plastic. Against the background of the press wall, meetings of the company's management with the press, video and photography of the first persons are being held. Such walls for the press are also ordered for a wedding photo shoot. With their help, a colorful and unforgettable interior of the wedding hall is created. The original press wall can be placed in the banquet hall during the celebration of the anniversary of a person or a company.
Interactive picture for exhibition stands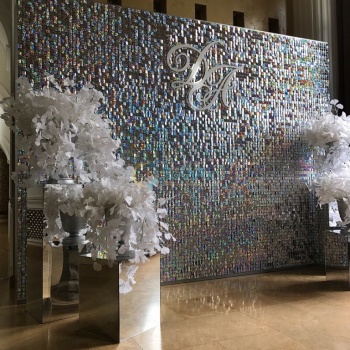 SolaAir offers to take the opportunity to draw attention to your products with the help of a "live" picture. The exhibition panels of sequins compare favorably with traditional brand walls and press walls, because:
They are lightweight and have holes for mounting on any surface;
They have moving reflective elements (sequins);
They capture airflows, causing the static image to "come to life";
They sparkle and reflect the rays of light;
They have a wide selection of colors. Elements are made in the form of a square, polyhedron, disk;
Any image can be applied to the surface of the sequins: color and monochrome
Exhibition panels made of sequins are unique, reliable, unpretentious, inexpensive, aesthetic, mobile, convenient means for promoting the company and its products at exhibitions and other public events in any cities.
Such exhibition panels can be ordered for a specific event or for large-scale advertising campaigns. The price of the panels with heels is quite affordable. Not only big business, but also private individuals can buy them. We produce decorative panels from sequins in Russia, but we have branches in other countries. We are ready to make and send products to order.