Sequin sign is the best choice for business
The sign is not just a pointer for the buyer, but a magnet that attracts his eyes and encourages him to come in and see what he can find and buy. Unless, of course, it's a good sign. From sequins, you can create almost any signage. This will completely fulfill its task without requiring any additional expenses and effort.
What are the main advantages of the sequins sign?
A person reacts more readily to a moving object than a static one. It is the peculiarity of the perception of the surrounding world. Therefore, as soon as it became possible to revive the signage with the help of modern technologies, the streets were filled first with neon flickering in different colors, then with LED, liquid crystal panels that were constantly in motion in order to attract attention and convince people to enter the store.
However, each method of attracting attention has not only advantages but also disadvantages. Not every LED panel or LCD screen can work without problems in any weather and temperature. Keep in mind that the signage is outside the store, not inside. At the same time, bad weather does not interfere with sequin panels.
The sequins signage is just a bunch of plastic circles or squares placed on a unique flexible frame. Under the action of air, light sequins sway, and the advertising picture on them begins to move. If the accent is made with mirror-coated sequins, then such panels create a whole extravaganza of sunlight, noticeable from afar.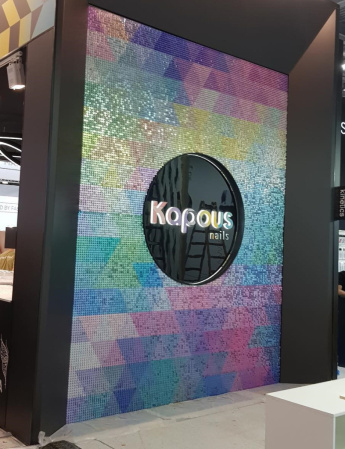 Additional benefits of the sequin panels:
Easy to install;
Little weight;
Sequins have a special coating that protects their surface from deformation in conditions of temperature and humidity fluctuations, loss of brightness of colors under the influence of ultraviolet;
To create the effect of movement or reflection of light, signs do not need to be connected to the power supply (unlike LED or LCD panels);
Panels with sequins are durable;
Sequins signs do not require repair and maintenance costs
The sequins signage is better at attracting attention than a static one. It is not necessary to fill the entire sign surface with dynamic panels with sequins. You can make an animated accent on the logo or slogan.
Whether it's advertising signs or full-fledged signages, you can always count on the fact that your information will be noticed.
You can order such signage at any time, on our website with delivery in Europe or to any other country in the world. Optimal prices, terms of production and delivery to various countries, and high efficiency will help your business always remain recognizable and noticeable.