Sequin Shimmering Signs, Wall Panels and Backdrops
The amount of advertising that surrounds the modern man, hard to account for. However, quantity does not always turns into quality.
Sometimes that is just stop paying attention is nothing more than an annoying fly. In this case, you need to think about how to attract people's attention in an unorthodox manner. This option may be live is SolaAir.
What is it? It is a unique system that allows you to create dynamic design. If briefly to describe the technology, this shimmering, shiny signs with reflective moveable elements. Innovative advertising is in constant motion, colors shimmer, drawing the eyes light glare. At the same time, the system is Autonomous, i.e. it requires no electrical connections or other resources.
The material used in this is:
durable
flexible,
resistant to heat and cold,
withstands winds
will not fade in direct sunlight.
Not surprisingly, in Sunny Krasnodar you can see good examples of murals, billboards, signs and extenders, created by new technology SolaAir.
Use this advertising may both outside and inside buildings, for the design of facades and premises. In particular, to attract attention to the front reception of the hotel or area for meeting guests at the conference.
You can order a "portable advertising" — the signs, stands or shimmering backdrops that can be moved. They work great during the exhibitions and presentations. Well proven this technology in the design of the holiday Windows, use it for decoration of interiors of cafes, night clubs, concert venues.
Experts say that the number of visual contacts that are attracted to live is SolaAir 6 times more than with conventional media. It shimmering on the moving elements focuses the attention of potential customers.
If you think that such advertising would be a darker, somewhat mistaken. Shimmering wall panels can be colored (more than 15 different shades), not only in the same range, but in the polychrome version, and even with special effects. Thanks to modern technology on top of the reflecting elements can be applied to any image: from paintings to your photo.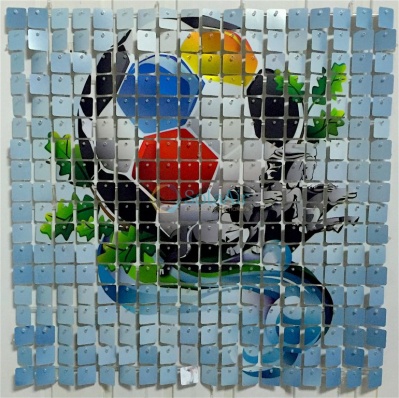 For the manufacture of such advertising use UV or latex printing method. In the first case, the final image will resemble the satin mirror, the second you get the picture from flickering and glare reflective effect.
Another advantage that live has is panel is very easy to fix on any surface, as each of them has special mounting holes for self-tapping screws. In addition, the fixation can be done with glue, staples or double sided tape. Due to the presence of connecting elements, the individual panels securely fastened to one another, so that you can build larger structures for advertising.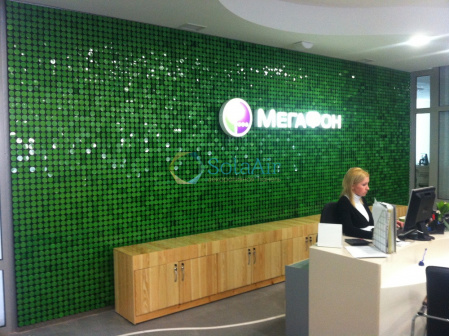 As for the cost, the designs made according to the technology SolaAir it is lower than a bit similar in appearance, but completely different quality counterparts. They do not use vinyl, which is usually purchased abroad, which increases the price of the final product. Reflecting the elements from which this is manufactured by its own production equipment, so the coating is applied in several stages, and long retains color and properties, providing a flicker. That is why they adorn not only Krasnodar, but also other cities of our country, attracting the attention of eye-pleasing play of light on the "sequin", "sequin" and "scales".
If you are interested in advertising technology SolaAir, you can contact the nearest to our representative and to order original advertising designs of all shapes and sizes.