Sequin Panels for any Advertisement
Advertising moves trade, but you need a good advertising medium that can attract the attention of a potential buyer. Dynamic reflective designs, which are panels with sequins, help to solve this problem. Unlike other advertising media, they do not need electricity, they endure all the hardships of operation: strong wind, bright sun, low temperatures and high humidity are not able to prevent sequin panels from doing their job.
Why should you buy sequin panels?
An advertisement should be interesting, unusual, attract attention and encourage to make an order or purchase. Sequin panels have a design in which thousands of pieces of plastic are securely fixed in their holders. Reliable, but not harsh. The free rotation creates that same magical effect when plastic confetti begins to sway from a slight breeze or vibration. The image applied to them as a result comes into motion.
The moving picture will be noticed faster than a static one. If instead of an advertising picture, a mirror coating is applied to the sequins, they reflect the rays of light, scattering thousands of sunbeams, and sun splashes. Very beautiful. That is why these panels are used for photo zones, brand walls, outdoor and indoor advertising (billboards, facade advertising), as well as a creative design element.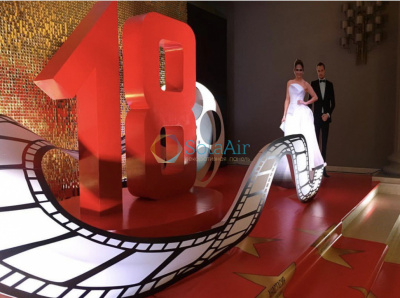 It's not tinsel or glitter. Sequined panels are made from quality materials using technologies used in the modern automotive industry (creating a colourful and special protective coating).
That is why dynamic designs with sequins:
are more reliable and durable than other types of advertising;
do not lose the brightness of colours, do not fly around under a strong wind (the secret is in the special attachment of sequins), and do not warp from frost;
are easily mounted. Panels can be bent and positioned at any angle. Fastening is carried out using screws for wood, metal and even double-sided tape;
do not need to be connected to the power supply to create the magic of an animated picture
Advertising will be more effective if structures with dynamic reflective panels are used as an advertising medium. It does not matter in which city or country you need these wonderful sequin panels because the manufacturer has worldwide delivery. Try the magic of sequins to promote your products and services at trade shows and events.