Sequin Banner for Advertising and Celebration
What do you know about sequins? No, not about those with which designers decorate wedding and evening dresses. Let's talk about panels with sequins that can be used in advertising and interior decor. For example, a banner made of sequins is much better visible from afar and attracts attention more often than a regular banner in the form of a picture on a vinyl canvas with night illumination. Why is a banner with sequins more noticeable? Because, like the dress with sequins, it is decorated with pieces of plastic of various shapes, with colour or plain coating. And due to the fact that these pieces are constantly changing their position, they attract the attention of potential buyers better than a static design.
Sequin Banner to attract attention
The main secret behind the success of a sequin banner is that nothing more than a simple breeze and the sequins themselves securely attached to the base of the banner is needed to create an attention-grabbing effect. Each sequin, under the influence of air or even just vibration, rotates along two axes. If like a mosaic, an image is assembled from sequins, then thanks to the wind, it starts to move. And the human eye reacts more readily to movement. This means that such a sign or a banner with sequins will be paid more attention to. That is why such advertising is more effective than static and at the same time cheaper than LCD monitors, lightboxes and other electronic tricks.
The sequin banner can be used for outdoor and indoor advertising. Sequins are ready to work for you around the clock, seven days a week, without holidays and weekends.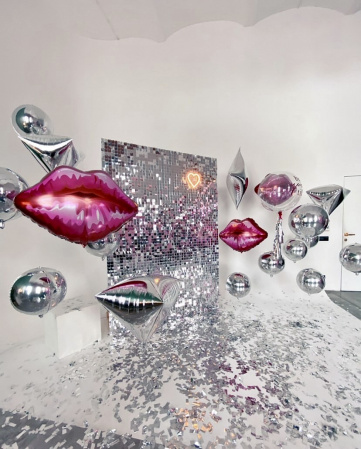 By the way, about the holidays. The magic of sequins is perfect for creating a successful exhibition composition and photo zone. In addition to the effect of movement, these small moving pieces of plastic are able to reflect light like mirrors and scatter rays, sunbeams and light splashes around. It looks very festive.
Three conditions for success
However, for a sequin banner to work well for you, three conditions must be met:
for outdoor advertising, sequins of a certain shape are needed so that they can be clearly seen from afar;
the size of the banner should be sufficient to create the desired effect of movement or reflection of light;
the colour solution for panels with sequins should correspond to the advertising idea so that the moving part of the banner and its immovable image do not interfere with each other
A sequin banner can consist entirely of panels with dynamic reflective elements (sequins) or you can use only a part of the surface to create a wow effect, focusing on a certain element of the advertising image.
You can order the development of a design for a banner with sequins and the banner itself on our website. We will provide delivery to any city in the world. In order for your ideas to promote goods, services or the brand as a whole to be successfully implemented in sequin banners, you should take care of close cooperation between your designer and the specialists responsible for preparing dynamic panels for work.