Photo zone in a beauty salon with sequins
Why do you need a photo zone in a beauty salon? Ever since social media has become a platform for promoting services, entrepreneurs have realized that photos and videos for pages and channels have become a daily necessity.
This is especially true for beauty salons, as they need to show their work to a wide audience of potential clients. Haircut, highlighting, colouring, makeup, manicure, pedicure, facial skincare, etc. All this must be able to present in such a way as to interest and convince customers to come. For such sessions of photo and video shooting, you will need a photo zone in the salon. Moreover, you need not just a beautiful background, correctly exposed light, but a creatively executed photo zone.
Probably everyone already knows what sequins are. There are sequins that are sewn on a dress and serve as a beautiful decor for a wedding dress. But here we will talk about those sequins that create an interesting combination of fixed and movable elements on banners and stands for effective advertising indoors and outdoors. The photo zone in the salon, supplemented with sequins, will make it possible to make many interesting and unusual photo sessions that serve the main purpose of promoting services.
Rules for a good background for a photo zone with sequins.
For high-quality and effective photography, you do not need bulky structures and a bunch of details in the background. It is enough to minimally designate the space against which the photo session and video shooting take place.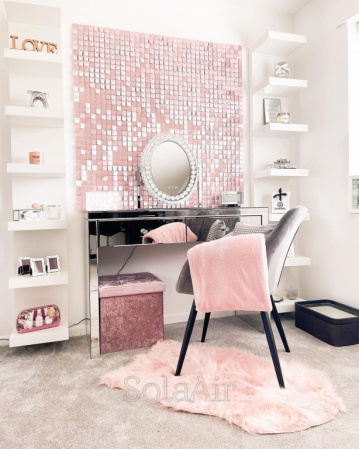 Subdued colour gamut, clear geometric shapes;
The colour of the "backdrop" (that is, the photo zone) should be correctly selected: do not merge with the foreground and do not interrupt it, obscuring the subject;
For photoshoots, it is better to have several photo zones or make a multi-level photo zone that can be divided into parts;
A photo zone with sequins should correspond to the general design style of a beauty salon, organically fit into it, emphasize its brand;
The texture of the photo zone can be stylized as a wall or a decorative living room, where dynamic elements will look organic;
The recommended size for a good photo zone of a beauty salon is not less than 2x2 meters
For a great photoshoot, you can choose dynamic reflective panels with sequins that create a smooth movement effect. Their soothing colours and shades will emphasize the beauty and completeness of the work. The creativity of the designers and the professionalism of the craftsmen are the key to the success of a good photo session. You can order an original and creative photo zone for a beauty salon with sequins on our website. Worldwide delivery.