Nova is the New Panel with Sequins
Be sure to check out the new Nova sequin panels. These decorative panels with sequins have already proven themselves well. Because they allow you to solve several problems: to attract the attention of visitors, and potential buyers, to be an interesting part of modern design. Sequins create the illusion of movement and the play of light, without requiring expensive and difficult-to-install structures, and constant costs to maintain it in working order. Ordinary light, elegant and durable panels can be used in advertising structures, photo zones, brand walls, as well as for decorating and finishing niches and other spaces during construction, that is, they can act as a decorative element.
New panels with sequins
Nova is the next generation of dynamic panels created by SolaAir. They are still strong, light and durable. Only now decorative panels with sequins are available to designers as an element of interior design already at the stage of construction of an office or studio, club or fitness center. They are suitable for decorating and finishing niches and other spaces during construction, that is, they already act as an element of decor. Nova is able to compete on equal terms with materials even in the premium segment.
Nova is style and beauty
Nova has a number of differences from the already known Standard or Pixel format designs, which are created by SolaAir.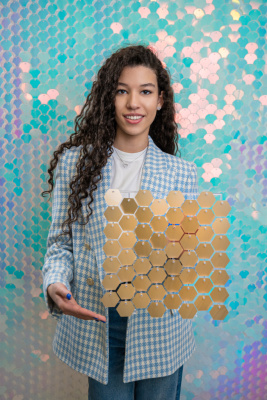 Nova panels do not require any improvised materials (self-tapping screws, double-sided tape and other similar solutions) at the installation stage. The panels are easily and quickly connected to each other using special fasteners on the frame and then, already as a ready-made design solution, they can be installed where intended: on walls or in niches, in various protruding structures and panels;
Compared to previous panels, Nova is almost twice as light. They weigh only 90 grams and at the same time are strong and durable, retaining the brightness of colours for a long time. The panels are resistant to wind gusts and can be used for outdoor structures. They are not afraid of low temperatures and high humidity;
The sequins of Nova panels have a noble satin sheen and a wide range of colours. Their design is in line with current design trends. Soft silver, honey shades, shining gold and bronze, turquoise and deep blue tones, and play of light and shadow fascinate and attract the eye, creating a special atmosphere in the room;
A special offset of the fasteners of the reflective elements makes it possible to use sequins of various shapes (round, rectangular, hexagonal) in one panel. The size of the panels has also changed. Now it is 300x300 mm. The sequins themselves have become larger, on average 38 millimetres. The similar size of dynamic elements, as well as panels, is set specifically for their convenient use in modern design structures. With the help of such panels, the designer can expand the possibilities in the design of the room, embodying his ideas already at the finishing stage;
Now the new panels can be useful not only in advertising structures or in the design of the facade, but also become a creative element of stylish design. The quality of the material from which sequins are made allows them to successfully compete with the best elements of modern decor. A large palette of colors expands the possibilities of the designer in the use of panels with moving elements.
Decorative panels with sequins
SolaAir's dynamic reflective panels with sequins will find application not only in creative advertising structures. They will become a full-fledged element of modern interior decor, not inferior to its best examples either in style or in quality of materials. Try the new sequin panels. You can buy or order them for your project on our website. Nova sequin panels are a stylish element of modern design