Living Signage in Winter
Good outdoor advertising works all year round, in the heat, rain, snow, and cold. Living signage or dynamic systems from sequins endure all the advertising life. Advertising with paillettes attracts attention with its unusual effect. It does not need constant care and power supply, and it is able to work for several years without losing the original appearance.
Live advertising is the engine of commerce
Why sequels better than standard banners and LCD screens?
They are made of special plastic that has a special coating against ultraviolet radiation and moisture;
They do not need a power supply for the motion effect to appear. It is enough for sequins to touch a light breeze or vibration so that they make your advertisement come alive;
They are easily mounted when assembled into dynamic panels;
Signage with sequins is visible from afar. Both pedestrians and car drivers pay attention to it. It is not necessary to create a sign only from sequins. This may be a part of the advertising surface, focusing the potential buyer on the certain information.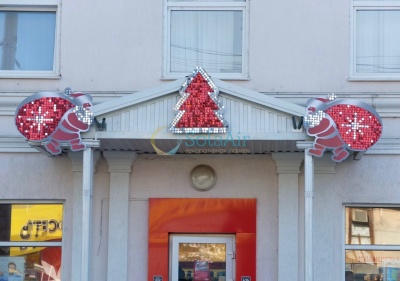 In winter, the live advertising is beneficial because it allows you to quickly and easily update your information. In addition, in the cold time on the background of snow, your bright advertisement from sequins will look particularly impressive and will certainly attract attention.
Do not wait for the summer. Upgrade the signage of your store, cafe, club, so you can see that modern live signs'll help your business. You can place an order for their production. Delivery of your new signage takes only a couple of days and it is provided in any city in Europe. We offer innovative technologies, affordable price, durability, stability and a beautiful view of signage at any time of the year. These are good arguments in favor of a sequin sign.
You can buy as many advertising surfaces as you like and not achieve the expected result. But just a couple of dynamic signs, banners will be more effective for your advertising campaign. It is estimated that live signs attract a potential buyer's attention by 60% more than regular advertising. So it's time to order such an signage.