How to make a sequin photo zone?
Photo zones have long been an integral part of any public event. However, it is this fact that prompts its organizers to be attentive to the design of the venue for the photo session for VIPs. It is no coincidence that many companies decide to make a sequin photo zone. There are several good reasons to prefer this particular design.
Photo zone with sequins
Firstly, a photo zone created using dynamic reflective panels looks more interesting than a static artistic "backdrop";
Secondly, sequin panels do not limit the designer's imagination. On the contrary, they provide new opportunities. Although the movement itself or the sparkle of sparkles and splashes of light may be decorating, it must be properly framed in order to create a unique atmosphere at the location of the photo session;
Thirdly, dynamic panels with sequins can be used to organize photo and video shooting of VIPs for almost any type of event: weddings, corporate holidays, exhibitions, anniversaries, sports events, children's parties, graduation parties, birthdays, bachelor parties and others.
The secret of the magic of sequins is simple - it is flexible but has a strong frame with special fasteners for moving structural elements. The sequins are almost weightless, freely rotate around the axis of attachment and, under the influence of even a light breath of air, vibration, set in motion, sway. If an image, a colour background, is applied on the surface of the sequins, then the whole picture begins to "come to life", and moves, giving the photo session a special flavour. If the sequins are covered with a mirror, reflective composition, they scatter sunbeams, rays, and splashes of light like fireworks.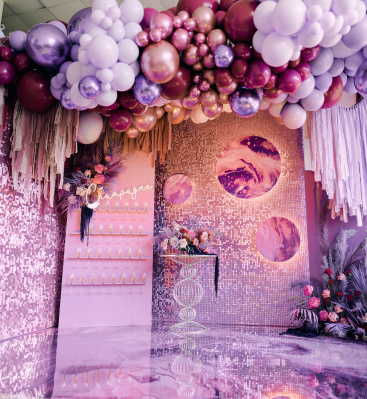 A photo zone with sequins and balls is festive, interesting and does not require much effort. You order a photo zone, install it on your own in the right place, add bright balloons and hold a festive photo session. Success is guaranteed. Because a properly organized place for shooting is in itself the centre of attraction for the attention of the participants and guests of your holiday.
A sequin photography backdrop is also beneficial because it does not require specialists for its installation or maintenance. Independence from the power supply allows you to deploy such a photo zone not only indoors, but also outside.
Organizers of public events and holidays have long understood that a photo zone with sequins is an investment that quickly pays off because it is unusual, popular and inexpensive. If you are ready to experiment and want to make a sequin photo zone, SolaAir is always ready to help you make your holiday bright and memorable. Order your sequin photo zone at our company. We deliver sequin panels worldwide. Participation in the development of the design of the photo zone, selection of the optimal solution for dynamic panels (size, number of sequins, their shape and colour), optimal order lead times, delivery to any country - all that is needed for the successful implementation of the plan.