Decorating a photo zone with sequins
Sequins are small pieces of plastic located in a dynamic panel so that, at the slightest breath of wind or vibration, they swing, making the picture depicted on them move. Decorating a photo zone with sequin panels is an interesting design solution that can decorate any holiday or event. The main thing is to choose the right panels with sequins for the photo zone so that they fully reveal their potential and create a special atmosphere during a photoshoot or video shooting.
Sequin panels for a photo zone: the right choice
Carrying out a photo session, as well as video filming with the participation of heroes of the occasion and dear guests, clients begin with the choice of a place. There should be enough space for the full-fledged work of the operator and photographer. Participants in the session should feel comfortable and not worry about the outcome. To create a certain mood and the correct design of an important stage of any holiday, you need dynamic panels with sequins.
What should be considered before deciding which panels with sequins for a photo zone to buy or order?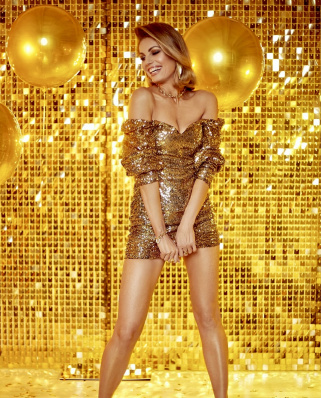 Sequins come in different shapes: square, circle, polygon. The choice of a specific shape for a dynamic element depends on the style of the composition: if the sequins match the main colour of the design, choose a disk or a polygon, if in contrast to the main colour - a rectangle;
The more sequins in the panel and the smaller their sizes, the smoother the "movement" of the picture will be. Just what you need if you need to choose a romantic, fabulous photo zone design;
The entire surface of the photo zone does not have to be made of dynamic panels. However, such a decision is justified for decorating a shooting location at a wedding, anniversary, birthday or New Year's corporate party;
To create the effect of movement, the place of the photoshoot should be spacious enough so that a slight draft or just vibration gets to light sequins and makes them sway
As a rule, the design of a photo zone requires preparation and time to make it. The timing depends on the size and choice of shape, the number of sequins in the panel, as well as the design option for the photo zone.
The manufacturer of dynamic sequin panels is located in Russia. However, this does not mean that your order will travel the world for weeks to be in time for your holiday. SolaAir has partners in many countries. This allows you to order sequin photo zones in different countries. Delivery times will be quite acceptable, and the quality of order execution will always be at a high level. If you are planning a holiday and you need to decorate the photo zone with sequins, go to the SolaAir website.